Basilios Psilakos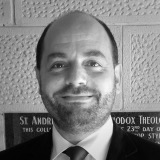 After completing his Bachelor of Theology (Sydney), Basilios Psilacos continued with post-graduate studies at the Aristotle University of Thessaloniki. There he also successfully completed a Bachelor of Byzantine Music, and a Graduate Diploma of Byzantine Music.
Basilios Psilacos is currently an Associate Lecturer in Worship and Liturgy, and the Instructor in Byzantine Ecclesiastical Music at St Andrew's Greek Orthodox Theological College (Sydney). He is also the Protopsaltis at the Parish of the Resurrection of our Lord, Kogarah, Sydney.
With an interest also in the health sciences, he successfully completed the requirements of the Doctor of Chiropractic degree.